Tumnus' Bookshelf: The NarniaFans Book Reviews: Through the Wardrobe: How CS Lewis created Narnia by Lina Maslo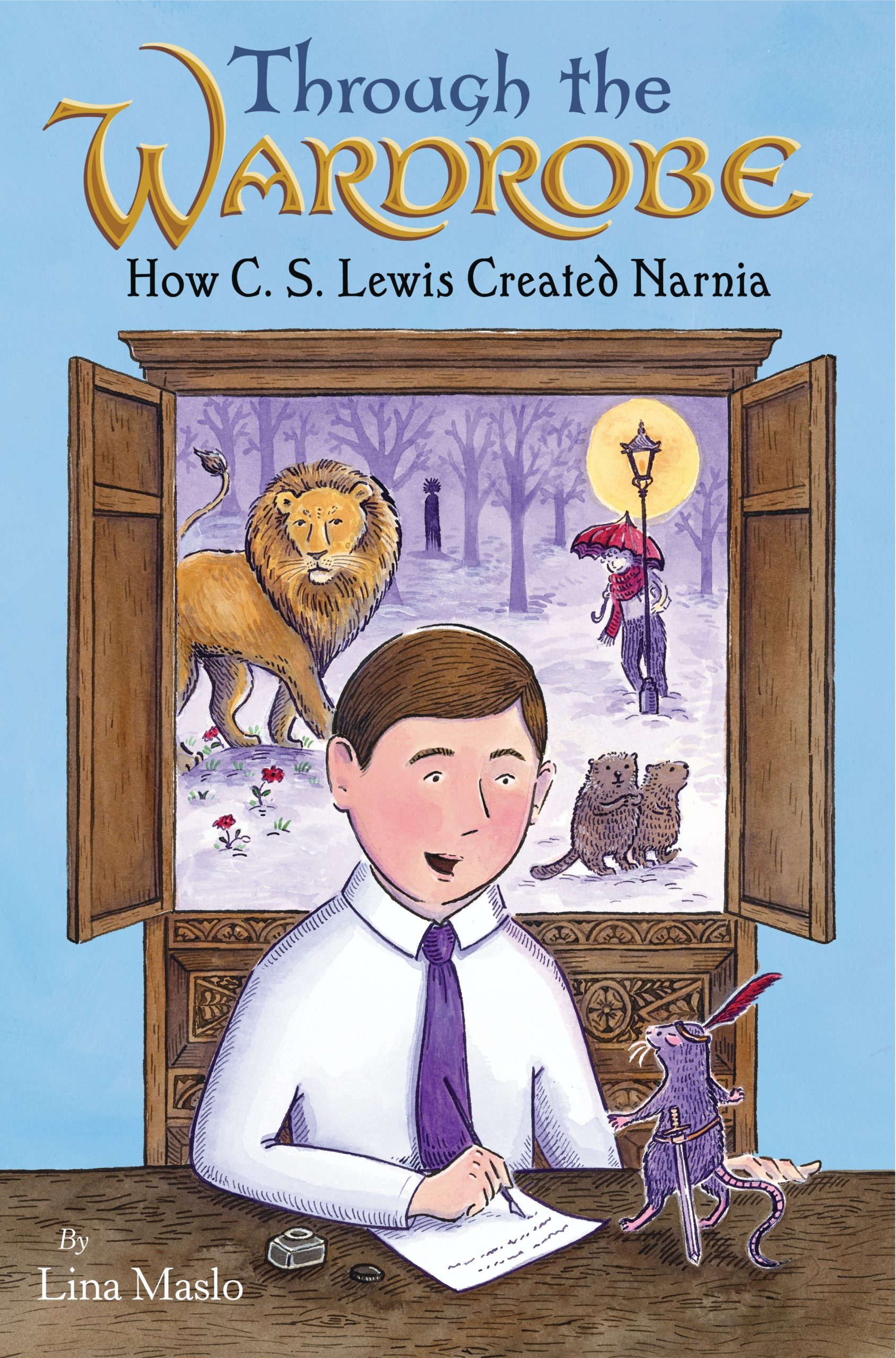 Tumnus' Bookshelf: The NarniaFans Book Reviews: Through the Wardrobe: How CS Lewis created Narnia by Lina Maslo
Hi everyone! Welcome to the Tumnus Library, where we review all the books written by, about, and inspired by CS Lewis, The Land of Narnia, and The Inklings. For today's review, we'll be looking at the new picture book biography Through the Wardrobe: How CS Lewis Created Narnia by Lina Maslo.
TITLE: Through the Wardrobe: How CS Lewis Created Narnia.
AUTHOR / Illustrator: Lina Maslo.
EDITOR: Balzer + Bray (An imprint of Harper Collins.)
ISBN-10: 0062798561
ISBN-13: 978-0062798565
Summary:
The CS Lewis story comes to life in an all-new children's picture book. Brilliantly written and beautifully illustrated, author Lina Maslo tells the story of CS Lewis from his childhood in Ireland, his time in school and World War I and how he wrote one of the most beloved children's books. all time, The Lion, the Witch and the Wardrobe. Along the way, young readers will not only learn more about him, but will also be inspired to create their own worlds.
Review:
While it's true that when asked, most kids would say they'd like to be a doctor, scientist, or even president, there are quite a few who will say they want to be a writer. Whether it's through a movie or a book, they quickly get caught up in these amazing fantasy worlds and end up being inspired to create their own. A parent or teacher may then wonder how to go about encouraging such a dream in a young person. Perhaps one of the most refreshing trends to emerge in children's literature this year is the sheer number of books on important figures across a wide range of fields. Not only do these cover the usual explorers, inventors, scientists, or political figures, but more recently quite a few have focused on such creative individuals as Walt Disney, JRR Tolkien, Stan Lee, and George Lucas. Lina Maslo, author of Free as a Bird: Malala's Story used her skills as a writer, illustrator and researcher to bring CS Lewis' story to life in a way perfect for young readers in her new book, Through the Wardrobe: How CS Lewis Created Narnia.
She immediately establishes the fact that all Lewis fans know by heart: that he preferred to be called Jack, and therefore refers to him as such throughout the book. It helps to make reading a lot easier for kids than calling it "CS" or "Clive". It also doesn't seem as formal as calling it "Lewis" or "Professor Lewis" like an encyclopedia article or a scientific article, but rather as if the children are making new friends. Sure enough, Maslo gives him the impression that he could be a friend to a modern child despite the separation of nearly a hundred years and different life circumstances. They come away feeling like Lewis was once a child, just like them, who had to deal with some of the same questions, struggles, and dreams that they have.
One thing that will certainly impress older fans is that this book doesn't shy away from some of the more difficult parts of Jack's life, like the death of his mother, the abuse he suffered in school. or his time of service during the First World War. It would be easy for a little children's book to skip those parts and just focus on the fun parts. But when describing the subject of the books of Narnia, readers are reminded that life's toughest times can be used to prepare you for who you are meant to be. The same was true of Jack's life and readers appreciate it all the more.
At the end of the book, there is also a summary of his full life story and some fun facts. For example, I was delighted and surprised to learn that the patron saint of Narni, Italy, the province which inspired the name of Narnia, is called Saint Lucia, or Santa Lucia. This and so many other wonderful pieces of knowledge are included and I spend even more time reading them long after I finish the book. The front and back covers even feature letters from Lewis to the children faithfully transcribed.
Her illustrations are delightfully charming, especially since we get the entire Narnia series described in one word with at least one image to accompany each story. While there have been attempts to adapt Narnia into a picture book series, they have never managed to make all seven, and so far this is a great introduction for young readers. I would even love to see the complete series done in Maslo's art style.
A fun trend in children's books is to feature a little "Easter Egg" character that readers can try to find on the pages. Fans young and old alike will be delighted to find the brave Reepicheep mouse making her way through history. It is sure to delight readers as much as it does the Narnia books, helping keen-eyed children pay a little more attention to the story reading. My 21 month old goddaughter loved looking for it while I read the book to her while babysitting and often pointed at it and then asked me to read it again.
It's such a delicious book. This is the kind that I wish I had been available as a kid and first knew I wanted to be a writer after hearing the Narnia books for the first time. It's sure to inspire a new generation of writers to find their own voice as storytellers. Lina Maslo's new book is a wonderful gift for Narnia fans of all ages and I can't think of a better Christmas gift for them than a copy of Through the Wardrobe: How CS Lewis Created Narnia.
Five of the five shields.
Buy the book on Amazon.com