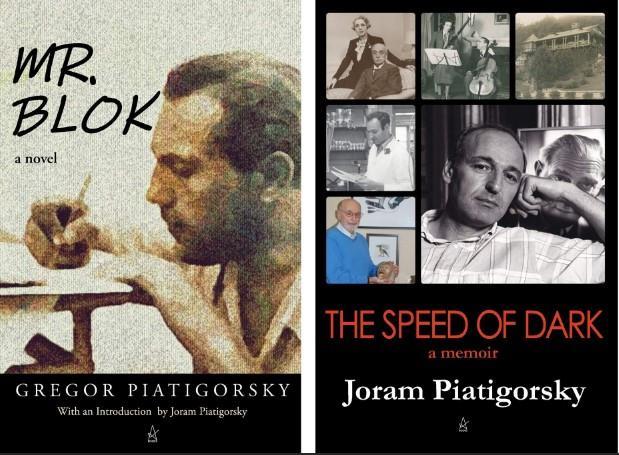 Book Reviews: 'Mr Blok' and 'The Speed ​​of Dark' | Review
Mr. Blok
Gregor Pyatigorsky
246PP ISBN 9781951214661
Adelaide Books $ 27.40
The Speed ​​of Darkness: A Memory
Joram Pyatigorsky
ISBN 9781732074231
Adelaide Books $ 22.30
It was recently discovered that Gregor Piatigorsky was born in 1904, a year later than his official date of birth. I learned this from The Speed ​​of Dark, a memoir by his son Joram Piatigorsky, one of two recently published books related to the most charismatic of the great cellists of the 20th century.
The other is Mr Blok, a sero-comic surrealist novel written by Piatigorsky in the late 1940s and early 1950s and now finally published with a beautifully written introduction by Joram. It complements Pyatigorsky's current canon of prose (some short stories, essays, and poems still remain unpublished) and is, for sure, a strange book that will appeal to some and others not. This would not have bothered its author, given his statement in the foreword that "readers will find in Mr. Blok a likeable boy, who would not fear being put aside if he did not succeed. keep your attention". The incumbent Mr Blok is a controversial New York artist who oscillates between a confident artistic vision and insane despair. The book was originally titled The Ditch, referring to the muddy canal it ends up falling into – and even it sits in when opening. In between, the loosely connected narrative follows him through romance, encounters with the police, near panic that he may have contracted leprosy, and lectures on his art for the Teyton Women's Committee. for the promotion of geniuses. He culminates in a chaotic Assembly of the Aristocrats of Mind Society, who honor him as their "Idol # 49".
I reacted to the book much like actor David Niven's 1981 novel Go Slowly, Come Back Quickly, in that I liked the parts that appear to be autobiographical the most, as well as the passages in which the protagonist is Pyatigorsky's substitute, expressing his most intimate beliefs and philosophies. Indeed, he told Doris Stevenson, the longtime pianist of his masterclasses, that "he portrays himself in Mr. Blok". Violinist Paul Rosenthal, who (playing the viola) recorded Tchaikovsky's Souvenir de Florence with Piatigorsky and Jascha Heifetz in 1968, remarked to me that "to be concerned with the composition of a work of fiction without playing is already some kind of statement. Her wonderful imagination has never ceased to be active and her charm is as evident in her book as in her conversation.
I first read Mr. Blok in a pirated photocopy when I was studying with Pyatigorsky many years ago. Revisiting it after reading The Speed ​​of Dark, I enjoyed it a lot more. Retired after a 50-year career as a molecular biologist at the head of his own laboratory at the National Institutes of Health in the United States, Joram Piatigorsky embarked on a second career as a writer. As might be expected, he offers an intimate view of Pyatigorsky as a person and personality (and in doing so, enlightens and contextualizes Mr. Blok) and, as a scientist, he tells and reflects on his own career and to his research. But above all, he takes up the challenge of finding himself. Each of us faces this challenge, but with Piatigorsky as a father and Jacqueline de Rothschild (of the banking dynasty) as a mother, "from birth the extraordinary was ordinary in my family." Joram is a spectacular writer; his memoir is not only skillfully and elegantly composed, but honest, insightful and poignant. Joram's success encompasses reflections on creativity in both art and science, giving and accepting feedback and criticism, leadership qualities and, most importantly, the joy and fulfillment of living one's own. life on its own terms.
JEFFREY SOLOW